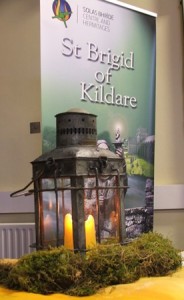 It may have been the dawn of springtime but a heavy shower of rain reminded all that winter was not quite finished yet as people walked in the candlelight pilgrimage at St. Brigid's well on St. Brigid's Eve! Still, the rain did not dampen the spirits of a crowd of approximately 300 who gathered to participate in the pilgrimage and who carried in their hearts the "sparks of hope" they wished to rekindle in 2014.
St. Brigid's Day brought further showers but visitors from overseas, and national visitors braved the elements to participate in the "Walk in the footsteps of St. Brigid" as well as enjoying learning to weave St. Brigid crosses. A sculpture of St. Brigid, donated to the new Solas Bhride Centre and Hermitages, by Fr. Dennis O'Neill of St. Martha's Parish, Morton Grove, Illinois, was to be unveiled in the afternoon of February 1st at the site. However, the stormy weather of the previous weeks meant "St. Brigid" was still on the high seas. A special ceremony was held at the Centre and all who attended were able to view the partially complete building. It was a disappointment for Fr. Dennis and many of his family members who had travelled from Illinois for the unveiling. Still there was the opportunity for Fr. Dennis to talk about his love for St. Brigid and how he had commissioned Tim Schmalz to create the sculpture in memory of his family.
Luka Bloom has long been associated with Feile Bride. All who attended his concert in the Heritage Centre were treated to a very special evening of music and song. Luka generously donated the proceeds of the concert to Solas Bhride Centre and Hermitages building fund.  Susan and Judy Boyle facilitated a delightful evening on "Brigid, Bees and Brewing". We sampled drinks of mead and a variety of " brews" along with honey flavoured snacks while listening to the process used in the making of drinks. There is a growing market in Ireland for an alternative to the mass produced beers of the multinationals. The tradition of microbreweries had died out in Ireland until, about 15 years ago, but Irish craft beers have been making huge progress in recent years.
The Annual Celtic Lecture "The Spirituality of Patrick Kavanagh" was delivered by Una Agnew. Una spoke of how Patrick Kavanagh's work detects the thumb-print of God on the simplest aspects of creation and celebrates the miracles of everyday found in the commonplaces of life. The literary theme continued in the Feile in"Spring's Spring awakening" – a literary celebration with music, hosted by Kildare town library. Readings Ann Egan, Martin Malone and members of a local writers group, which reflected the theme, held all spell bound.
Afri Justice and Peace Conference – Life: Source or Resource
The Afri Conference looked at issues of life, light and library. Abjata Khalif of the Kenya Pastoralist journalists Network, was the first speaker at the Conference. Abjata is founding member and chair of the Kenyan Pastoralist Journalist Network, a community media organisation that uses media for in offering peace education, reconciling communities through radio and community forums. His involvement with Climate Development and Knowledge Network has brought innovative approaches to climate change to his work in northern Kenya, and the partnership with Afri has resulted in the distribution of solar powered lamps to assist with home births within the community, providing children with opportunities for education through the use of solar powered lamps, and empowerment for women forced to live on the edge of society.
Fergal Anderson, a small vegetable farmer from the west of Ireland has been working on various issues around Food Sovereignty for the past five years. He is currently trying to build an Irish network fo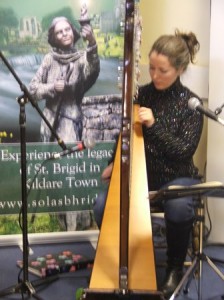 r Food sovereignty. His message was a challenge to the participants to look at a change of attitude towards food and food production. "Food", he said, "is not a commodity but a right. Our food and agricultural systems are too important to be left in the hands of transnational corporations. The food we eat and how our society produces it are issues we all need to be aware of. GM crops are highly politicised, because they affect the relationship our society has with the production of food to feed its people. It is the multinational companies and large corporations which stand to make huge profits from any expansion of GM agriculture, transferring the control of seeds and food production from farmers and consumers to transnational corporations and industries and surrendering all public or community control over what kind of food we eat and who benefits from its production." He calls for a rejection of the paradigm of GM agriculture and an of embracing agricultural systems which work with as opposed to against nature.
Donal Dorr, a member of APT (Action to Prevent Trafficking) introduced Mia, a woman who ended up working in prostitution to feed her heroin addiction. It was while on the streets herself that she became aware of the plight of trafficked women, befriended them and tried to offer what support and assistance she could. While giving us a small glimpse into the indignity she herself suffered her main focus was on the total lack of freedom, and the horrific lifestyle endured by women trafficked into prostitution. Mia, has succeeded in changing her life around with help from Ruhama and is now attending college. She continues her campaign against human trafficking into the sex industry and is a strong advocate of the "STOP Trafficking in Persons" campaign spearheaded by APT. APT is a faith-based group of volunteers committed to raising awareness about human trafficking, lobbying and keeping in touch world-wide with others who are equally concerned about the issue.
Women making their mark on The Curragh
On February 2nd, par
participants at the Feile were introduced to inspirational women who make their living or draw inspiration from The Curragh, from women jockeys and horse trainers, women artists to women who work in the Defence Forces.
The Feile concluded with mass at st. Brigid's well following by a "Celebration of Sparks of Hope" through music and song by "Highly Strung"
Feile Bride 2014 focused on hope. Many of the Workshops and the Afri Conference highlighted that hope is really a series of small actions that transform darkness into light.Emily Dickinson describes hope very well:
Hope is the thing with feathers
That perches in the soul
And sings the tune without the words
And never stops at all
And sweetest in the gale is heard.
"Hope is the thing with feathers"